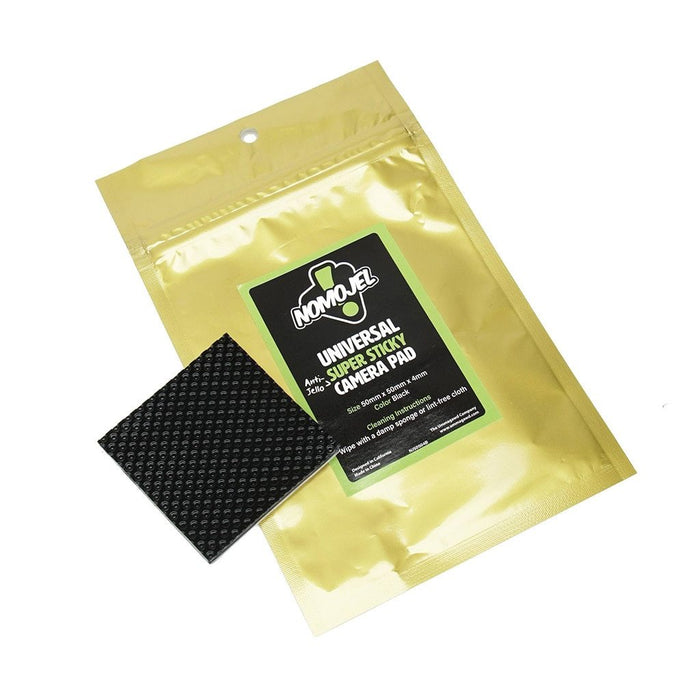 Nomojel - Universal Super Sticky Camera Pad
Original price
$0.00
-
Original price
$0.00
Availability:
in stock, ready to be shipped
Two things are sure to ruin the memory of any great flight; unusable, jello-y HD footage or worse, an ejected and lost HD camera. Nomojel was created to help solve both of those issues with one amazing product. While made from the same material as Ummagrip, the key difference is that Nomojel is thicker, softer, and stickier, providing vibration dampening (anti-jello), while keeping the camera confidently stuck in place. When used with a high quality retention strap, you won't be worrying about ejected cameras or wobbly unusable video.
Nomojel has a unique dimpled pattern molded into the surface that helps give the pad enough surface area to grip, but not so much that it pulls off of the frame when removing your camera. And with a 50mm x 50mm square, at 4mm thick, backed with high quality 3M adhesive, you can add a permanent, super sticky, anti-jello, camera pad to nearly any frame. 
Cleaning Instructions:
Clean Nomojel with a damp sponge or lint free cloth. Water is all that's needed to get dust and dirt un-stuck from the pad, but the cleaner and drier it gets, the more sticky it becomes. Avoid things like paper towels, tissues, or t-shirts as they might leave lint behind.
Although Nomojel is extremely sticky when clean and dust free, it does not need to be perfectly clean to still work. Even well coated in dust, it still grips noticeably better than foam or rubber pads ever could while providing amazing vibration absorption. Nomojel is the new standard. Anything else, would just be irresponsible.