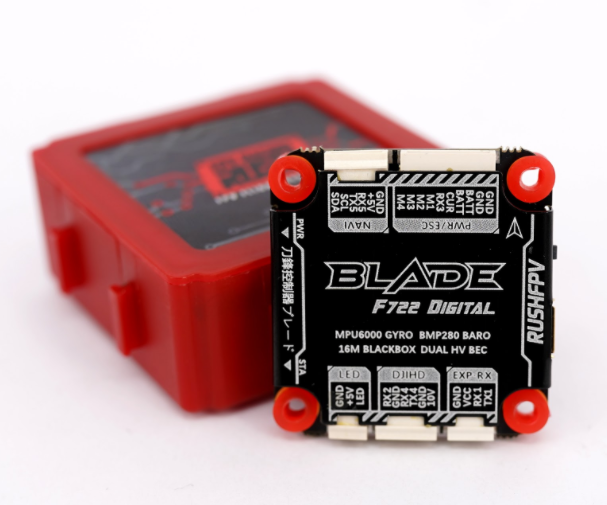 Rush Blade SUPER Edition Stack F7 60A (FC+ESC) for DJI
Sold out
Original price
$0.00
-
Original price
$0.00
Availability:
Out of stock
The second we put this in our hands we knew we HAD to offer it to y'all. This stack screams PREMIUM.  With quick connects to everything all you need are the correct harnesses to do a quick build and start ripping it. 
After some testing we know this is a product that we can stand behind which is very important to us.

The RUSH BLADE F722 Stack for DIGITAL by RUSHFPV features the RUSH BLADE F722 Digital Flight Controller, RUSH BLADE 60A 3-6S BLHeli_32 4-in-1 ESC (Super Edition), and the RUSH Power Filter Board (PFB), which can handle up to 6S input voltage and push your FPV racer to the max.
Specifications
RUSHFPV RUSH BLADE F722 Flight Controller For Digital
MCU: 216MHz
GYRO: MPU6000
OSD: Onboard
Input Voltage: 3-8S
BEC: 5V/5A 10V/3A
Mounting Holes: 30.5mm x 30.5mm
RUSHFPV RUSH BLADE 60A 3-6S BLHeli_32 4-in-1 ESC - Super Edition
Rated Current: 60A
Peak Current: 80A
Input Voltage: 3-6SLipo
MCU: F350 168MHz
PWM FREQ: 96K
LED Color: Pink
Weight: 16.5g
Dimension: 45*36.5*7.5mm
BL32 FW: RUSH_BLADE_SUPER
RUSH PFB Power Filter Board
The 4 in 1 ESC can not achieve complete filtering due to its compact structure and high power. Excessive voltage peaks can cause interference to other components. Current surges generated during crashes can also have a strong impact on the MOSFET's and the power supply and can cause damage.
The RUSH PFB is small in size and can be installed at the tail of the ESC as a supplementary device for the filter. It is equipped with two 35V 330uF high-speed solid capacitors, and the parallel ESR is very low 5 m0 (TEST FREQ @10KHz)! It has a good filtering effect on high-frequency interference generated by ESC.
There are 3 high-power TVS diodes on board, which can cut voltage peaks at ns speeds, and absorb high-voltage surges caused by collisions of the propeller during a crash in time to protect the field-effect tube and other components from the surge. We recommend installing it in a high-power 6S brushless system.
Includes
1 - RUSHFPV RUSH BLADE F722 Flight Controller For DJI Digital FPV System
1 - RUSHFPV RUSH BLADE 50A 3-6S BLHeli_32 4-in-1 ESC - SUPER Edition
1 - RUSH PFB Power Filter Board