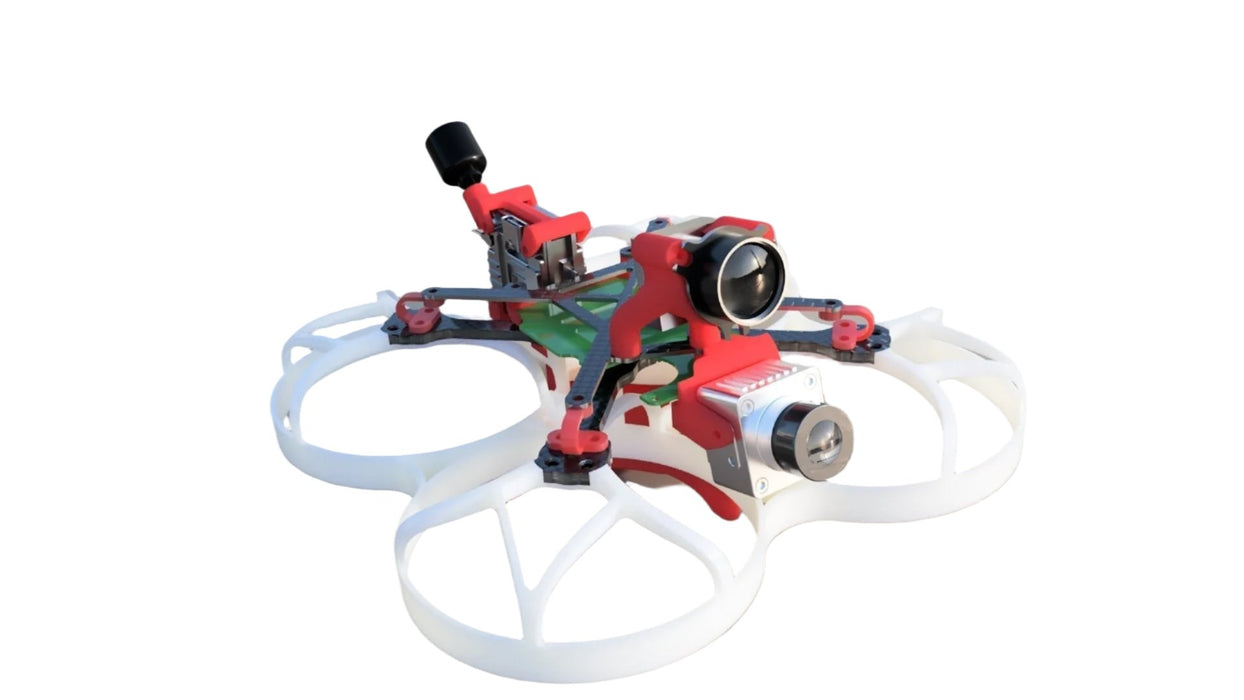 Umma95 - Beta95x Naked GoPro Cinewhoop Kit
Sold out
Original price
$0.00
-
Original price
$0.00
Availability:
Out of stock
Availability:
Out of stock
Availability:
Out of stock
Availability:
Out of stock
The same umma-goodness as the wildly popular Umma85, but more efficient, more powerful, and DJI HD compatible.
I wanted to build smallest drone that can carry a GoPro. It needs to be reliable enough to use on my professional flying gigs, and durable enough to handle an occasional crash or bump. It needed to be able to fly extremely close to people, through tight spaces, or flying in extremely sensitive environments where any larger drone would do some damage if something bad were to happen.
So I decased a gopro and got it to a point where it weighs 17g (thanks to the Naked GoPro community). It shouldn't take much to lift this guy, so I went with the smallest RTF out there that had good reviews, the BetaFPV Beta85x. The fact that it has 2" props and flies on 4s should make this not only work great but still be a lot of fun.
I went to town modding it, starting with converting it to a pusher configuration (flipping it upside down), which gave me a lot of space up top to relocate and mount things. Knowing that I needed the now 17g GoPro to work with Reelsteady, I needed to ensure that vibrations wouldn't make its way to the GoPros onboard gyro. So I borrowed a chapter out of the Acrobrat book and developed a clean & dirty setup that would utilized the mass of the battery to counter the vibrations from the drone.
What you see/get out of this kit, is a few weeks of development and testing, but the result speaks for itself. The top mounted battery design along with the clean section makes for the smoothest and cleanest footage that works exceptionally well with Reelsteady.
The design uses the minimal amount of parts and hardware to make the clean section work all while maintaining a crashability factor.
Kit comes with everything you need to convert your Beta95x to this "slammed" naked gopro design.
1 - 1mm Carbon Top Plate
1 - 3D printed

TPU 

GoPro Lens Mount
1 - 3D printed 

TPU 

FPV Cam Mount (Optional DJI or Analog)
1 - 3D printed TPU Rear GoPro Board Mount
4 - 3D printed TPU Vibration Isolators
1 - 3D Printed TPU VTX Cover or Landing gear
1 - Hardware pack
1 - Caddx Vista mount (Optional for DJI)
Decasing GoPro instructions: https://youtu.be/_LfcCYBOqAo
*Be sure to remove the HDMI port from the board. I've found that it is easiest to cut each pin 1 at a time, then desolder what is left behind.
Betaflight PINIO (Radio controlled RECORD button): https://youtu.be/7gb8l_ip-rc
BetaFlight Setup instructions:
https://docs.google.com/document/d/1pr1Keda1WNXBnsf7Zf1-mdbudHe9SXlXs_ossa-2c9c/edit?usp=sharing
Big thanks to the community members of the Naked GoPro Facebook group who helped immensely this project.