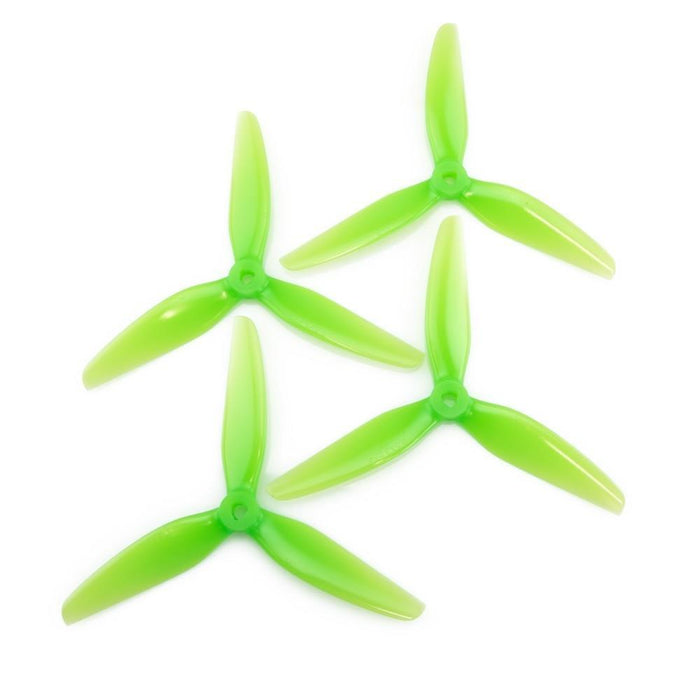 HQ Durable Prop 5.1x3.1x3 Light Green POPO
Sold out
Original price
$0.00
-
Original price
$0.00
Availability:
Out of stock
In general, bigger props are more efficient (a 7" will be more efficient than 6", and 6" moreso than 5", etc.). These props maximize 5" builds by adding a little extra prop to get a little more thrust and speed.
The pitch (middle # when reading prop specs) represents the angle of the prop and is measured by how far forward the prop would go in one revolution (simply speaking). For instance, a 5x3.6x3 prop would travel 3.6 inches in one revolution with no other factors.
It's easiest to think of this figure as a "drive gear". The higher the pitch (or gear) the more power and top speed it will deliver, at the cost of low-end torque and response. Higher pitch props will be more efficient at higher speeds.
A lower pitched prop will be more responsive, more low-end torque, and be more efficient at slower speeds. But will have less overall power and top speed, and will be less efficient at higher speeds.
Specifications

Size: 5.1"
Pitch: 3.1"
Material: PC
Blades: 3
Weight: 4.5g
Mounting hole: 5mm
Center Hub Thickness: 7mm
POPO Compatible: Yes

Includes

2x CW 5.1x3.1x3 Propellers
2x CCW 5.1x3.1x3 Propellers