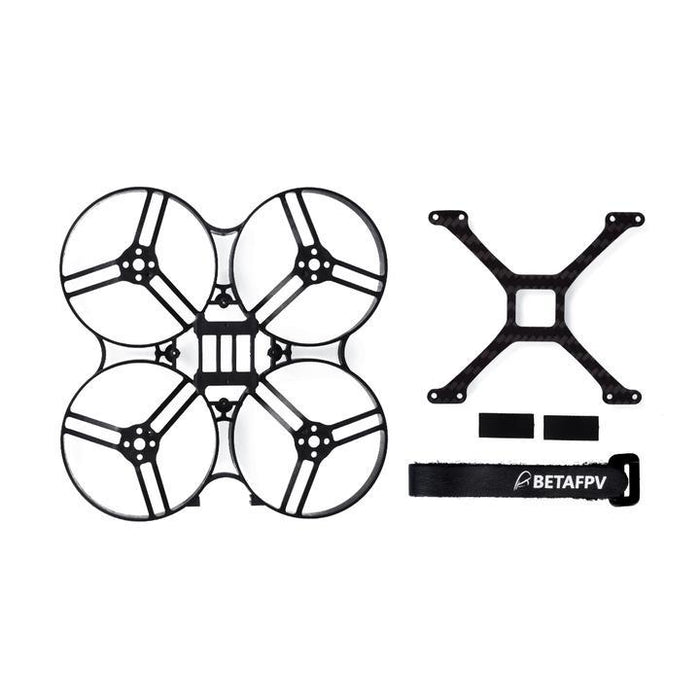 Beta85X 4S 4K Frame Kit
Original price
$9.99
-
Original price
$9.99
Availability:
in stock, ready to be shipped
For those of you who want to build an Umma85 from the ground up and source your own parts, this is where you start. This is the "upgraded" Beta85x 4S 4K frame kit that includes the carbon brace, and has some changes to the plastic. Grab a FC/ESC stack from here, a set of motors, and the Umma85 kit, and you'll be on your way to creating your Naked GoPro cinematic adventures. 
We suggest going with the 85 size if you're priority is to have the smallest footprint possible to hit the tiniest of gaps. If you need more power though, check out the 95.
Notes from BetaFPV
Upgraded Beta85X frame kit is customized for BETAFPV Beta85X 4K brushless cine whoop drone, the wheelbase is 85mm.
The Carbon Brace can reinforce the drone, avoid unstability caused by too strong power. It will increase the stiffness and support across the frame. Prevents a lot of damage and still get solid flight time.
The Beta85x 4K frame can fit the 110x brushless motors like 1105 brushless motors perfectly. Comes with a LED holder, cconvenient for installing a LED board.
Shipped with plastic durable package, protects the package from deformation during the shipping process.
Includes

1 * Beta85X 4K Whoop Frame(Black)
1 * Stiffener Brace of carbon fiber
1 * 150mm battery cable tie
2 * No-Slip Rubber Pads