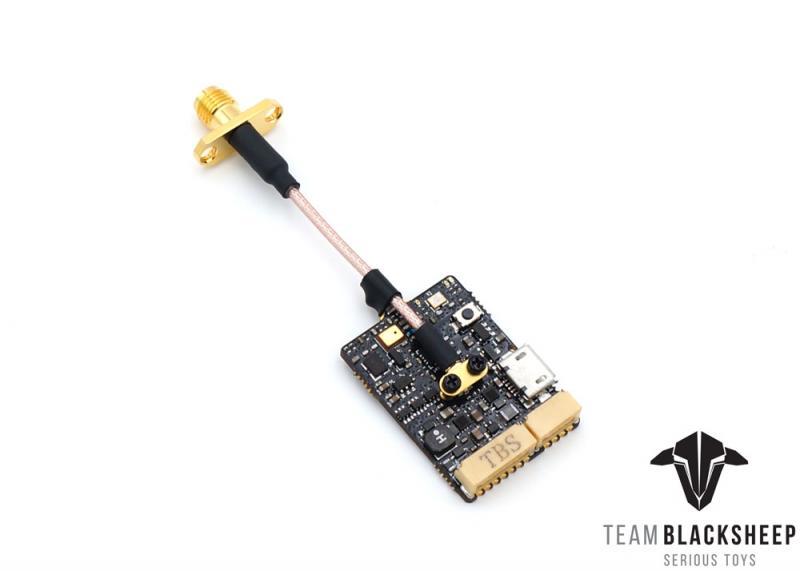 TBS Unify Evo 800mW VTX
Original price
$59.95
-
Original price
$59.95
Availability:
in stock, ready to be shipped
Introducing the latest technology in TBS video transmitters! It comes with a built-in graphical OSD and microphone, talks all the protocols and transmits all the power levels!
BARCODES!!
The VTx is capable of processing the camera image. So now it can read barcodes! This means the VTx no longer needs to be transmitting to set channels, and setting channels can be done in the pits. It also means no more guesswork what channel the VTx is on, simply point it at the barcode of your choice and it will move to that channel or power level! There are many more exciting features coming with this technology, stay tuned and barcode on!
CRSF, SMARTAUDIO 2.1, PWM, PITMODE
CRSF is the defacto standard in FPV and racing drones, so it makes sense that this video transmitter can both understand as well as speak CRSF. For compatibility, the VTx also speaks SA 2.1 and has the teamrace-friendly pitmode feature. PWM controls allow you to use the VTx with any radio and product. For example, you may have it on your R/C cars, R/C motorcycles or other devices that don't have flight controllers or Crossfire and control the VTx button with a switch or button you have on the radio.
SPECIFICATIONS
Operating Voltage: 6V - 26V (2S - 6S)
Supply current: (25mW) ~ 0.11A | (100mW) ~ 0.13A | (400mW) ~ 0.18A | (full power) ~ 0.24A
Operating Temperature: watch for normal airflow
Video Input Impedance: 75 Ohm
Weight: 7g
Dimensions: 30 x 23 x 5.5mm
Antenna Connector: u.FL socket
Video Format: NTSC/PAL
Audio: Microphone included
Output Power: 14dBm (25mW), 20dBm (100mW), 26dBm (400mW), 29dBm (800mW)
INCLUDED
1x TBS UNIFY EVO 5G8 Video transmitter
1x u.FL pigtail SMA
1x Power, Camera and CRSF cables 
DOWNLOADS
3RD PARTY APPS
* HAM license is required for operation on HAM channels, and HAM power levels! The VTx ships with only legal channels enabled, please consult the manual on unlocking procedure.